Inauguration of News & Events Repository
News & Events repository is a digital store house of events & achievements from various areas of the Campus including Departments, Clubs, Associations and staff/student community. In this repository, the heads/nominated persons of each department and also the coordinators of various associations can post the events/achievements. The news items need to be posted within three working days. The posted items will be verified and published by the principal/nominated person in a regular interval, normally twice in a week (Monday & Friday) within 11:00 am to 12:00 pm.  The initial meeting of this venture was conducted on 18-11-2016 with a demo of news & events repository. All the members accepted the new proposal and made some suggestions to improve it. The technology used for this initiative is "Wordpress" and its customization is done by our ITIMS team.
As a part of implementation, a technical session was arranged for the representatives from various departments at Advanced Computer lab, Dept. of CSE on Thursday, 8-12-2016. The session was formally inaugurated  by our Vice Principal, Dr. V.N Krishnachandran and the technical session was handled by Mr. Shali K R (Server Administrator, Dept. of CSE).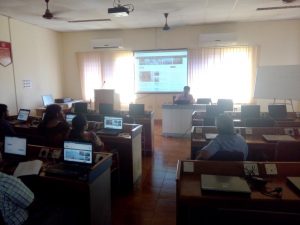 A review meeting was conducted on 20-1-2017 in the Advanced Computer lab for fine turning the process.