International Health Olympiad & Launch of Science Awareness Programme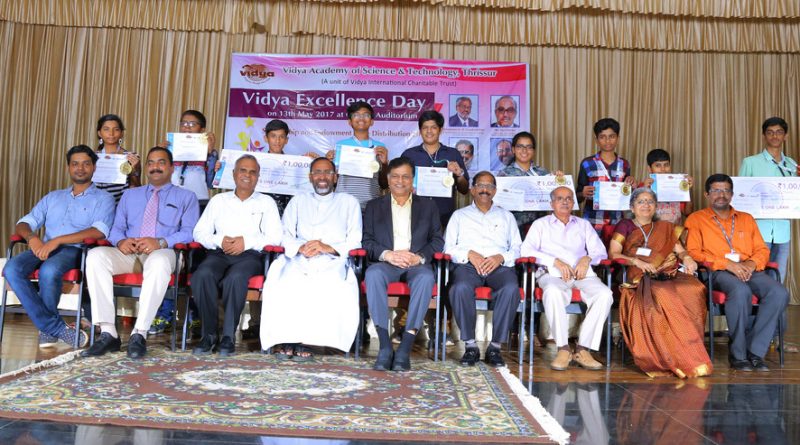 Two special programmes were organised in the afternoon of 13th  May 2017. The first was the launching of the Science Awareness Programme. The second was the valedictory function and prize distribution ceremony of the International Health Olympiad (IHO).
International Health Olympiad is an International Level Quiz Competition for children of grades 5-12 all over the world. The preliminary screening test was conducted on 30.12.2016 and 212 students were shortlisted for main examination. The main examination was conducted on 13.05.2017 and 144 students competed for top 3 positions. The students were evaluated in two rounds – a written examination and an audio/visual quiz round in the morning session. The main sponsors for this competition were Fr. Davis Chiramel,  Vidya Academy of Science and Technology (Thrissur) and VPS Lakeshore Hospital (Kochi).
Padmasree Dr. M. Chandradathan (Scientific Advisor to the Chief Minister of Kerala and former director VSSC), Fr.Davis Chirammel (Chairman, Kidney Federation of India  (KFI)), Mr. S. K. Abdulla, (CEO, VPS Lakeshore Hospital) were the prominent guests for the function.
Dr. Sudha Balagopalan (Principal, VAST) welcomed the gathering. Mr. Sudhakaran Polassery (Chairman, VICT) delivered the presidential   address. Er. P. K. Asokan (Chief Patron, VICT) briefed about the Science Awareness Programme and its purpose in Vidya. He highlighted that science awareness programme is a social outreach programme of Vidya to link with school level students of 9 & 10 th standards. This will be as similar to the Brahma Social Outreach Programme Vidya  is presently conducting for school students. He informed that the programme will be initiated with the patronage of Dr. M. Chandradathan and welcomed him to officially inaugurate the Science Awareness Programme.
Padmasree Dr. M. Chandradathan, addressed the gathering and inaugurated the launch of Science AwarenessProgramme and also briefed how and why scientific temper should be instilled in the minds of young children.
Fr. Davis Chirammel delivered the keynote address and thanked delegates of VIDYA and VPS Lakeshore Hospital. He specially thanked Mr. Saneesh, Edumithra,  for his support to Vidya and Lakeshore Hospital in conducting the IHO quiz competition. Mr.S. K.  Abdulla, felicitated the function and thanked all for the successful conduct of IHO. He specially thanked Fr. Davis Chirammel who initiated the IHO. He thanked all members of VAST and IHO for giving him a privilege to attend the function.
The awards of prizes to IHO winners were declared and participants were in three categories. The first prize from each categories were awarded a cash prize of Rs.1 Lakh.
The session came to end with felicitation of Mr. Saneesh, Edu Mithra, and vote of thanks from  Dr. Swapna Kumar, ECE HoD, VAST.
Winners of Different Categories
Junior
i. Anupam Bimal, St.Paul's Convent English Higher Secondary School
ii. Adithyan V.S, Sabarigiri Senior Secondary School, Punaloor
iii. Adithyan Puthupura, Paramekkavu Vidya Mandir
Senior
i. Parthiv Menon, Blooming Buds Bethania
ii. Pranav Somasekhar, Navy Children School, Kochi
iii. Gokul M.R, Saraswathy Vidyaniketan
Super Senior
i. Revathy Krishna, Aarya Central School, Trivandrum
ii. Niranjana Davis, St. Antony's Public School , Anakkal
iii. Vishnu K, St. Antony's HSS Pudukad
The prizes for each categories are as follows:
Top performers from each category get CASH PRIZE of INR ONE LAKH and a lifetime opportunity to study for MBBS free of cost.
Six performers (first and second runner-ups of each categories) get a grand opportunity to study for B.Tech. at Vidya Academy of Science and Technology. The prize is is sponsored by Prime Sponsor Vidya Academy of Engineering and Technology.