Anil M steps down as NSS Programme Officer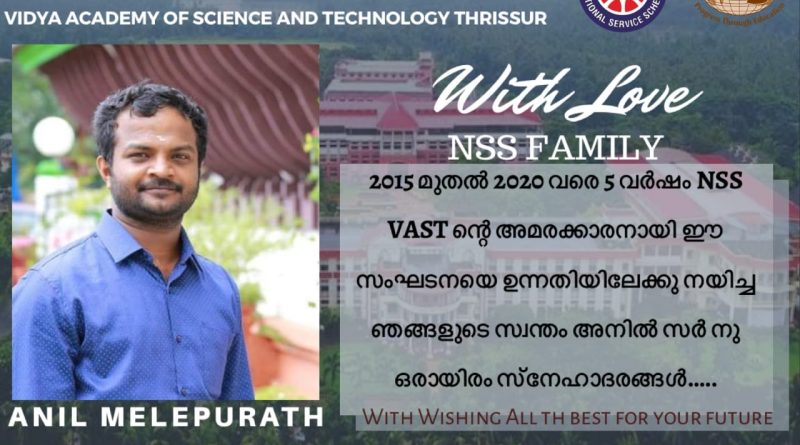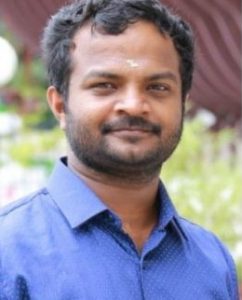 Mr Anil M, Programme Officer of NSS Units of Vidya, stepped down as Programme Officer with effect from 1 June 2020, on completion of five years of great service as Programme Officer. The NSS regulations mandate that no person can serve as a Programme Officer for more than five years continuously.
The Editorial Team of News & Events would like to put on record its great admiration and appreciation of Mr Anil M who has stepped down as Programme Officer. Mr Anil M started his journey with NSS in the year 2015. He could bring the NSS units of Vidya to grea heights within five years with his sincerity and dedication towards the work. He was selected as the regional coordinator for Thrissur, Malappuram and Palakkad districts under NSS Technical Cell. He also served as the Coordinator for flood relief activities in Thrissur district and also as the Nodal Officer for Covid-19 related activities. The NSS team of vidya under the guidance of Mr. Anil M helped secure awards for the best volunteer, the best Programme Officer and the best Unit in state level and directorate level, for the Units and personnel of Vidya's NSS Units.
A video  journey of Vidya's NSS units through the years 2015 – 2020
**
---
An incomplete list of major activities  and achievements of Vidya's NSS Units during 2015 – 2020
Organized several state level camps
Volunteers' participation in National Integration Camps
Participation of volunteers in Republic Day Camps and youth delegation program
Blood and stem cell donation programmes
Water resource mapping
Flood relief works
Amrut Health Survey
Tourism destination programmes
Punarjjani activities
Integrated farming
Swachh Bharat programmes
Product development
Support system for autistic children
School skill development  and enhancement programmes
Covid related products
Home for homeless projects
State level and Directorate level Awards for best Volunteer, PO and unit
---