MCA Dept's Chip-to-Net workshop continues to attract students in large numbers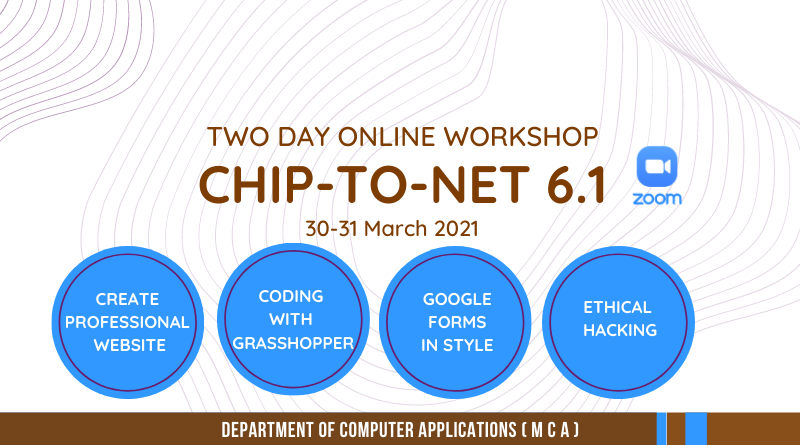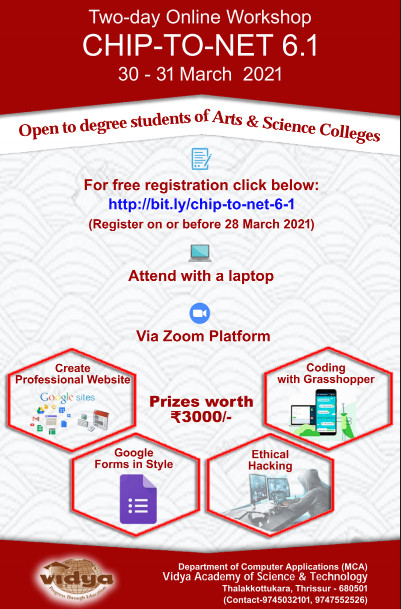 Initially, the faculty and staff of the MCA Dept were a little skeptical about the acceptance of an online version  of the popular two-day workshop christened "Chip-to-Net" the Dept had been organising for the last five years without interruption. But when it was announced, they realised that the popularity of the workshop has only soared and not declined. The Dept received more than 250  registrations for the online version of the workshop which has been named "Chip-to_Net 6.1" and which was held during 30 – 31 March 2021. The activities were conducted via the ZOOM platform. There were four fully hands on sessions, one competition and an online quiz.
Activities
Session 1 was held during the FN session of 30 March 2021 and the resource person was Dr V N Krishnachndran, Head of MCA Dept. The activity was a quick and thorough training in creating a website using Google Sites.
Session 2 was held during the AN session of 30 March 2021 and it was handled by Mr Ravishankar (AP, CSE Dept). With hands on training, Mr Ravishankar taught the participants how to code using the popular Grasshopper app.
Session 3 was held during the FN session of 31 March 2021 and it was about ethical hacking. The resource person was Mr Arun P R (TI, EEE Dept). When feedback was collected from the participants, it turned out that this session was the most popular session among all the four sessions with 85% rating it as "Excellent", 14% as "Good" and only 1% as "Satisfactory".
Session 4 was held during the AN session of 31 March 2021 and it was handled by Ms Aparna S Balan (AP, MCA Dept). Ms Aparna talked at length with live demonstration the well known and not so well known details of creating a Google Form.
Winners of website creation contest

The competition was to create a website using the tools explained in the session on Google Sites. Nearly, all the participants participated in the competition. Those who judged the entries for selecting the winners were unanimous in their opinion that the prize winning entries were of such high quality beyond all their expectations. The following are the winners of the competition.
Winners of the quiz competition

| | | | |
| --- | --- | --- | --- |
| First Prize | Edwin K J | Christ College (Autonomous), Irinjalakuda | BCA (4th Sem) |
| Second Prize | Sagar R | Sree Narayana Guru College Of Advanced Studies, Alathur | B Sc Computer Science (6th Sem) |
Feedback
---