ME students develop automatic vertical cradle
A slightly older news; yet, we should not miss it …
A group of B Tech (ME) students of the College have developed an automatic vertical cradle as an effective solution for the difficulties faced by parents of kids and toddlers who are busy in their professional life and can't afford a nanny. The project attracted a lot of attention when it was presented in the Manorama IBS Yuva Master Minds Project Exhibition held on 9-10.01.2018.
Automatic vertical cradle provides an ideal environment for the comfort of the child. The automatic vertical cradle performs two type of motions: a swinging motion and a vertical up and down motion (similar to holding the baby on a mother's chest) which satisfy two different needs. For both swinging and vertical motion, four bar linkage mechanisms are used. There is a slot provided for easy vertical motion. Roller wheels are provided for transportation. A wet sensor is also provided for detecting wetness in the bed.
The team members were K K Arun, K A Akshaykumar, I S Akshay, P R Babeesh and Akshay Sivanand, and the Project Guide was Prasanth A B (AP, ME Dept.).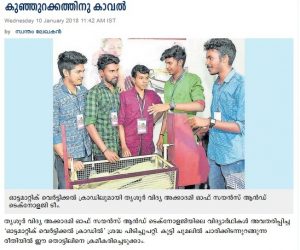 News in Malayala Manorama