They are on a mission : Green campus, clean campus 2018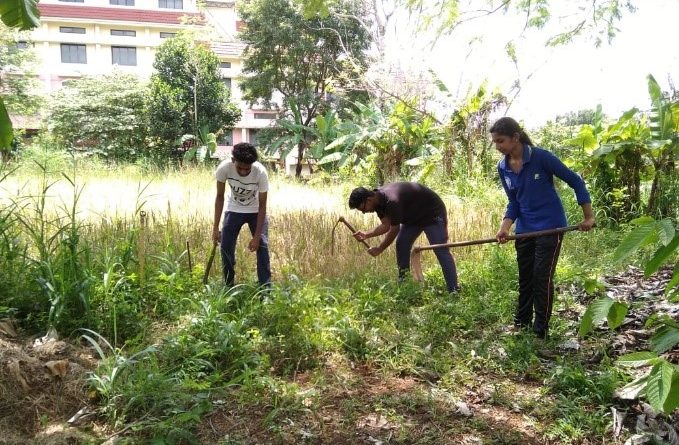 By taking up a series of activities spread over a week starting from 02 October 2018, the NSS volunteers of the College contributed a lot in making the Vidya campus a lot more healthier, greener and cleaner.
On 2 October 2018, NSS volunteers participated in the integrated farming. They took part in works such as cleaning the rabbit cage and its environment.
On 3 October 2018, as many as 40 NSS volunteers participated in cleaning campaign. They participated in the integrated farming of fish by feeding them and cleaning the fish tank and the surrounding area.
On 4 October 2018, the Volunteers cleaned a small unused area in the campus and transformed the plot into a  green ecofriendly plot. Volunteers also cleaned the herbal garden which contains a variety of medicinal plants.
On 5 October 2018, as many as  43 NSS Volunteers participated in the cleaning programme. Volunteers cleaned the surroundings of the College Auditorium by cutting and plucking unwanted weeds and removing plastic items.
On 6 October 2018, NSS Volunteers cleaned the area where Karanel Krishi was done. Volunteers cleared the unwanted grass around the area.  The volunteers also cleaned and improved the  aesthetic view of Nakshatra Vanam. Volunteers also decorated the area using painted plastic bottles. They also cleaned the canteen area of by cutting the long grasses around it and removed plastic items around the area. They also put up a board advising students and others to use the dustbin and not to litter waste.
On 7  October 2018,  NSS Volunteers cleaned the college premises, cafeteria. They also put up a board about health and good food habits. The volunteers also cleaned the surroundings of parking area. Volunteers placed dustbins at various parts of the campus.
With the continuous efforts of the NSS volunteers for the six days, NSS units of Vidya were able to achieve the mission of "Green Campus Clean Campus".