A big salute to Mr Balagopalan: Jincy and her kids get a new home
On 26 June 2019, the Village Officer, Ayyanthole, received a phone call. The family of deceased Ajeesh was receiving a flat. Ajeesh had passed away during a landslide in Kilanoor during the Kerala floods last year. He is survived by his wife Jincy and two kids.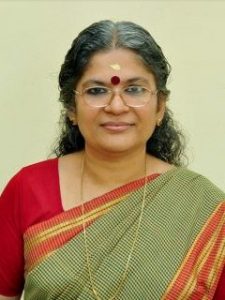 After the Kerala floods, Mr Balagolapan, husband of Vidya's much loved, much respected and much admired former Principal and current Dean-Academics Dr Sudha Balagopalan, had approached the then Thrissur District Collector Ms T V Anupama, IAS,  informing her that he was ready to offer his flat in Thrissur Civil Station area to the most deserving person identified by the Collector. The Collector identified the right person as Jincy and her family for having lost the sole bread earner of the family as well their home. The Collector herself instructed the Village Officer of Ayyanthole to do the needed work for the transfer.