International Artists Day celebration by NSS volunteers
The NSS units of Vidya  conducted a programme to celebrate the International Artists Day on 25 October 2019. The participants of the programme shared their thoughts on arts and created an awareness about the importance of celebrating the Art Day. Some conveyed their thoughts on creating artistic objects from waste materials which would help the process of healthy disposal of waste and save our environment. The programme was concluded with a song.
International Artists Day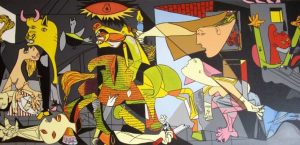 International Artist Day was founded by Chris MacClure, a Canadian artist who specializes inthe style known as "Romantic Realism". His paintings were a way to bring out his own "Romantic Realist" views on life, and have served to make him one of Canada's most important artists. He created this day to bring recognition to the world of art, and to celebrate all the ways that artists bring their own special view to life.
The best way to celebrate International Artist Day is to support your local artists, most communities have a local art community that encompass the unique personality of both the community they live in, and the personality of that artist. If you've been looking for something to spruce up your living room or bedroom, then head out and find a unique piece that will bring life and personality to your home.
October 25th is also celebrated as National Art Day in the US. October 25 is also the birthday of the much celebrated Spanish artist Pablo Picasso.