NSS volunteers observe National Color Day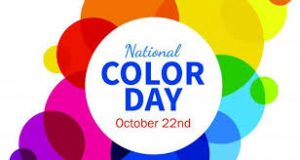 On 23 October 2019, a group of NSS volunteers of Vidya  conducted a programme for celebrating National Color Day and for spreading awareness about colors. Volunteers shared their thoughts about colors and their indications.  As many as  35 volunteers participated in the programme.
There are two days devoted to the colors on Earth: International Colour Day, established by the International Colour Association and celebrated March 21 each year, and National Color Day, an unofficial U.S. holiday of unknown origin celebrated on October 22. The day is meant to put focus on appreciating the natural colors of the world.