Mathrubhumi-Vidya Q-Fiesta 2019 comes to an end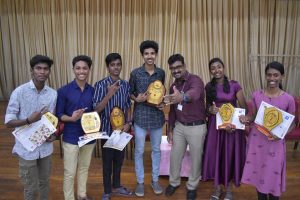 Mathrubhumi-QFiesta is a quiz competition for the students of Higher Secondary classes  organised by Vidya in association with the Mathrubhumi daily newspaper. The competition was visualised as an attempt to provide a context and a platform for aspiring students to showcase their talents and to promote the cause of self-learning.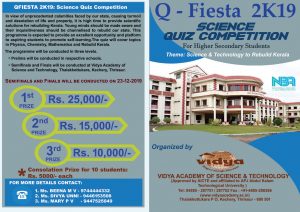 The competition was conducted at three levels: The preliminary round was held in the respective schools with the cooperation of school authorities. Selected students were required to appear for the semifinals which was conducted in the various computer labs of Vidya. Around 300 students participated in the semi-finals. From the semi finals 10 students qualified into the finals. The final round was conducted in the College Auditorium with Mr Hareesh K (AP, ME Dept) serving as the Quiz-Master. The semifinals and finals were conducted on 23 December 2019.
The prizes for the winners were distributed by Dr V V Unnikrishnan, Academic Dean, Kerala University of Health Sciences in a function held in the College Auditorium.
Prize winners
Prize
Winners
Prize money
First Prize
Aleena Paul

St Paul's Public School, Kuriachira

Aneena K

Govt R S R V Higher Secondary School, Velur

Rs. 25,000
Second Prize
Abhinav K

Bharathiya Vidya Bhavan, Poochatty

Ranjith B

M N K M Higher Secondary School, Chittilanchery

Rs 15,000
Third Prize
Sreehari Bose

S N Trust Higher Secondary School, Nattika

Alnas Kabeer

SN Vidya Bhavan Senior Secondary School, Chentrappinni

Rs 10,000
Also consolation prizes of Rs 5000 each were awarded to first ten positions.
The valedictory function of the programme was attended by Principal Dr Saji C B, Administrative and Finance Director Mr Suresh Lal, Programme Convenors Ms Beena M V, Dr Mary P V, Ms Divya Unni, Dr Jiby Jose and Mr Gokul Raveendran.
Image gallery: Semifinals
Image gallery: Finals
Image gallery: Prize distribution ceremony
Image gallery: Prize winners
Image gallery: Consolation prize winners
Image gallery: Miscellaneous
---