More and more challenges and contests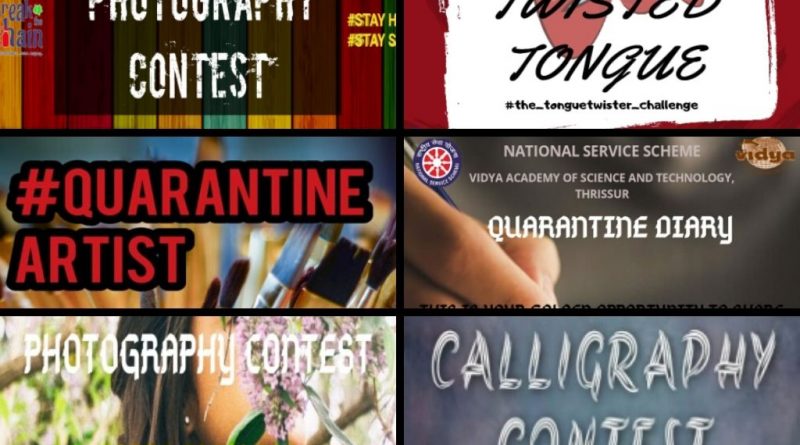 The NSS units of Vidya organised several interesting contests and challenges to make students effectively utilize the lock down days for improving their creativity and other skills.
Photography contest:  On 7 May 2020 based on the theme "Keep Our Surroundings Clean".
Quarantine diary challenge: On 8 May 2020. Volunteers shared their experiences in the lock down period.
Quarantine artist: On 9 May 2020 to give opportunity for volunteers to show case their skills.
Faceless self portrait challenge: On 9 May 2020 for entertainment purpose.
Short film contest: On 10 May 2020.
Tongue twister challenge: On 11 May 2020 for entertainment purpose and to help to maintain liveliness of minds of participants.
Photo with pet contest: On 12 May 2020. Participants were asked to share their photos with their pets.
Calligraphy contest: On 13 May 2020 to show case skills related to decorative lettering.
---
Image galleries
---
Photography contest
***
Quarantine diary challenge
***
Quarantine artist

***
Faceless Self portrait challenge

***
Tongue twister challenge

***
Calligraphy contest

***
Photo with pet contest

***
Short film contest

***
---