Students organise e-farewll to Ms Nitha K P
Since a physical meetup was not possible due to the current lockdown situation, an online ceremony was arranged on 17 May 2020 by S8 B Tech (CSE – A) students to bid farewell to Ms Nitha K P (AP, CSE Dept). All the faculty and staff of the CSE department were also invited for the same.
The programme commenced with a beautiful melody rendered by one of the students Krishnendu Suresh. This was followed by a speech by Dr Ramani Bai V (Prof and Head, CSE Dept.). Then Ms Nitha K P shared her memorable experiences that she had as part of Vidya. She even took out time to talk about her students and also what was next in her course of action. A video was played which projected a string of memorable moments that she shared with her class. This was followed by the words of a few of her students, after which she was asked to sing a song. Ms Nitha K P was gifted with a portrait of herself sketched by Mr Hrithwik T S as a token of love. Faculty and staff who were present also spoke on the occasion.  A few students too conveyed their high regard for their "Nitha ma'am".  The presence of Dr  Raju C K, Ms Remya P C, Ms Remya P S, Ms Mahalakshmy A, Ms Remisha Ravindran, Ms Anima and Ms Sreeja, faculty and staff, added to vibrancy of the programme.
The reporter adds:

"Ms Nitha K P, undoubtedly, has an irreplaceable position in the hearts of each of her students. She shall always be fondly remembered for all that she has done for the betterment of her students and also for the love and kindness she had showered! She has made sure that she led her students a lot more further in the path of knowledge and righteousness for which they will always be immensely grateful towards her! May all the happiness and good health be bestowed upon her, topped with lots of greatly cherishable moments in the many more wonderful days that are yet to come!"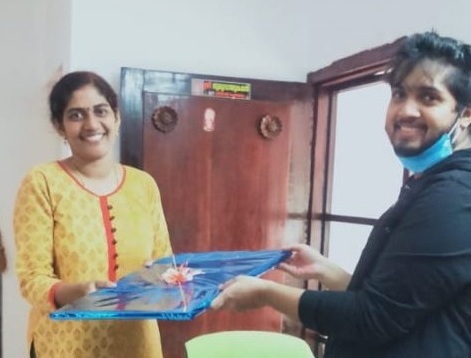 ---