Vidya Scholarship and Endowment Prize Distribution Function 2020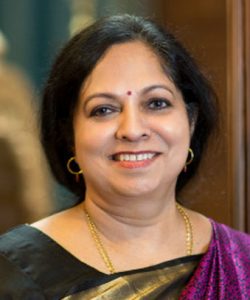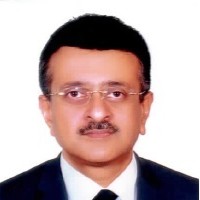 The Scholarship and Endowment Prize Distribution Function of Vidya of the year 2020 was conducted in the online mode at 4.00 pm on 25 September 2020. Ms Kumari Shibulal, Founder, Sarojini Damodaran Foundation, partcipated in the programme as the Chief Guest and also inaugurated the function. Dr Santhosh Prasannan, Chairman, VICT, presided over the function.
As many as 97 students were awarded scholarships in the function. Besides, as many as 34 Endowment Prizes also were awarded to students who were the top performers of their classes. Sreehari A M, National-level NSS Awardee was also honored in the function.
The online session was conducted in Zoom Platform which was witnessed by 352 participants including Trustees, staff and faculty members, parents and students. The same was also streamed in the Facebook page of Vidya which was viewed by 1200 people.
---
Image gallery
---
News in electronic media
For news in CCTV, click HERE.
---
News in print media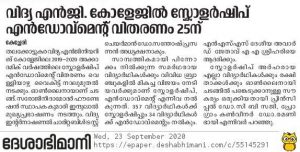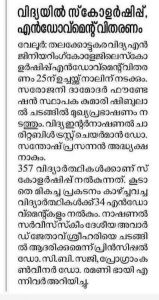 ---