KTU awards Honours to 70 Vidya students! Highest number in Thrissur District!
The APJAKTU has awarded the B Tech (Honours) degree to as many as 70 students of the 2020 pass out batch of Vidya. This makes Vidya the college in Thrissur District having the highest number of such meritorious students.
To earn this honour a student has to study two additional elective papers in the B Tech Syllabus and two papers in the M Tech syllabus. In stead of the papers in B Tech syllabus, he students may opt to study two online courses prescribed by the University and pass with a score of 80 per cent marks. Hard work is indeed needed to earn the B Tech (Honours) degree.
The Editorial Team of News & Events congratulates the students for their meritorious performance and also the faculty members who guided and mentored them to achieve this sucess.
University toppers of CE Dept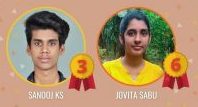 In addition to the this honour, Vidya has been honoured by two top performers of the CE Dept. Two students of the B Tech programme of the Dept have been spotted in the list of students with Highest CGPA ( 2% of the branch-wise registered count limited to a maximum of 10 students) as on 1/10/2020 published by the APJAKTU: Sanooj K S with a CGPA of 9.73 is in the third position and Jovita Sabu with a CGPA of 9.69 is in the sixth position.
---
News in print media