Vidya Talent Centre begins to gather momentum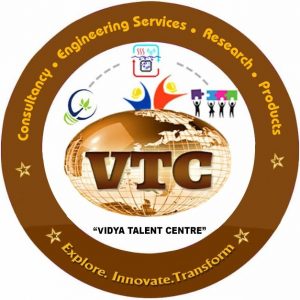 Vidya Talent Centre (VTC), a new vertical of  VICT, was constituted to strengthen the efforts of VICT to develop Vidya as a center for industrial consultancy and research. The activities of the Centre are focused on the following areas:
Consultancy and engineering services
Industry sponsored research
Major product development and production
Commercialization of major student projects
Major products and services
Courses, seminars (external entities) intended for participants from outside also
Support for incubation, start-ups, cloud funding, tie-ups etc
Review meeting on 14 November 2020
A review of the activities of the Centre was conducted on 14 November 2020 in the presence of the senior functionaries of VICT. Er P K Asokan, Chief Patron, Dr Santhosh Prasannan, Chairman, Mr Gireesh Kumar Malattiri, Secretary, Er G Mohanachandran, Executive Director, Mr Sureshlal, Administrative and Finance Director and Mr Manu Reghurajan, Joint Secretary participated in the review meeting. Representing the College, the Principal, Vice-Principal, Dean-Academics, Heads of Depts and Dept Coordinators of VTC participated in the meeting.
In her presentation on the progress of activities of the VTC, Dr Kala Bharathan (Asso Prof, ECE Dept and Head of VTC) gave an overview of the activities completed so far which included, among others, works related to the development of a ventilator, the development of a customised humanoid, the consultancy works completed by the CE Dept and the progress in the development of a website for VTC. The review concluded in an optimistic note expressing satisfaction in the progress made by VTC in the short span of time since its inception. At the same time, the participants stressed the need for further strengthening the activities of the Centre.
---
First report on Vidya Talent Centre
---