Online Orientation Programme for MCA freshers 2020
The MCA Dept of the College organised an Orientation Programme for the newly admitted MCA students on 16 November 2020 in the online mode. The programme which started sharp at 9.30 am incorporated all the components of the Orientation Programmes conducted in the previous years. All the newly admitted students along with their parents attended the programme.
The Head of MCA Dept reports . . . 
"This year's admissions to the MCA programme in Vidya was completed on 13.11.2020 and I am happy to report that the Dept could get admissions to 100% of all available seats. I believe that the Dept could achieve this only because of the full support the faculty and staff of the Dept obtained from the Management, the Principal, the Admin Dept, colleagues from other departments and above all from the present and past students of the Dept. On behalf of the faculty and staff of the MCA Dept I place on record our thankfulness to all of them for helping us make this possible."
Inaugural ceremony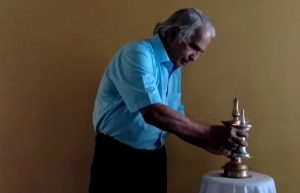 The programme commenced with an invocation followed by a welcome address by Dr V N Krishnachandran (Prof and Head, MCA Dept). After the presidential address by Dr Saji C B, Principal, there was a lamp lighting ceremony marking the inauguration of the classes of the 15th MCA batch of Vidya. The ceremony was conducted in the form of a video show showing the Head of MCA Dept lighting a traditional lamp. This was followed by felicitation addresses by Er G Mohanachandran, Executive Director, Mr Suresh Lal, Administration and Finance Director, Dr Sudha Balagopalan, Dean-Academics, and Mr Paul Chakola, Head of Training and Placement Dept. Two alumni of the Dept, Mr Aashrith N and Ms Shadiya, students of the MCA 2020 pass out batch also joined to offer felicitations. The first part of the programme came to an end with a vote of thanks by Mr Sajay K R (Asso Prof, MCA Dept).
Introducing the College, the Dept, the faculty and staff members
In the second part, there was slide show presentation on the College and on the Dept by students of S3 MCA batch and a video presentation on the activities conducted by the students during the current lock down period. Thee slide show was presented by Greeshma Gopinathan, Reveena and Riya Raphael. After the presentation, the faculty and staff members of the Dept introduced themselves. The Head of Dept gave an overview of the rules and regulations of the College. The programme came to an end with a rendering of the national anthem.
Self-introduction by students
As a continuation of the Orientation Programme, the MCA Dept is conducting a programme spread over three days for the self-introduction of students. All the Group Tutors of the batch and all faculty members engaging classes for the batch will be participating in these sessions to be conducted in the online mode.
---
More images
---
Videos
Inauguration of 15th MCA batch of Vidya Academy of Science and Technology
A video show depicting the activities by students, faculty and staff of the MCA Dept during the lock down period which was shown during the Orientation Programme
---