Orientation session on Sannadhasena for NSS volunteers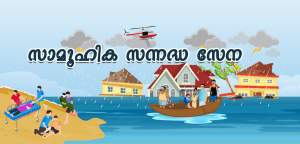 The NSS units of Vidya conducted online orientation sessions on Sannadhasena registration on 21 November 2020.
The programme was conducted through Google Meet in two separate sessions for second year student volunteers and third year student volunteers. The first session was held during 4.00 to 5,00 pm and second session during 6.30 – 7.30 pm. Ms Jasmine John and Mr Mohammed Aslam Ashraf , NSS volunteers from nearby colleges who had already completed Sannadhasena training led the orientation sessions. They discussed the history and importance of Sannadhasena during the session. The procedure for registering in Sannadhasena was also explained. During the program, Mr Sreehari Sasikumar, Vidya NSS volunteer shared his experiences while working as a part of Sannadhasena during last year's floods.
A total of 145 NSS volunteers from Vidya have already completed their registration in Sannadhasena.
---