EEE students develop solar powered system to destroy farm pests
A group of EEE students of Vidya, as part of their final year main project, developed a solar powered system that would destroy crop pests and would convert the dead pests to organic manure. The fully solar powered machine can function during day time as well as night time. The machine uses hormones in day time to attract insects to the machine. It also uses ultrasonic technology and yellow and blue light at night to attract insects. Pests are destroyed using high voltage electric energy. A layman can use it easily because of the low current flow. The machine also has the facility to combine these dying pests with organic matter and compost it into organic manure. It helps to keep away other animals which enter the farm to eat the pests. The machine is also equipped with a safety feature to protect it from rain. The team have set up compartments for storing the belongings of those working in the fields and a mobile phone charge point in the system.
The team
The team consisted of Ushas Andrews from Kanjani, Kevin George from Palazhi, Manalur, Swathi K Sunil from Kandassamkadavu and Jincy Jose from Anthikad. Mr Vishnu Rach, Mr Sankaran Namboothiri and Mr Ashwin T Surendran, AP's in the EEE Dept, coordinated the project led by Dr Mary Varghese (Head of EEE Dept). The project was selected as the best project in a competition conducted by the IEDC Club of the college. The students are now working with the Department of Agriculture to bring the machine to market.
---
News in TV channels
---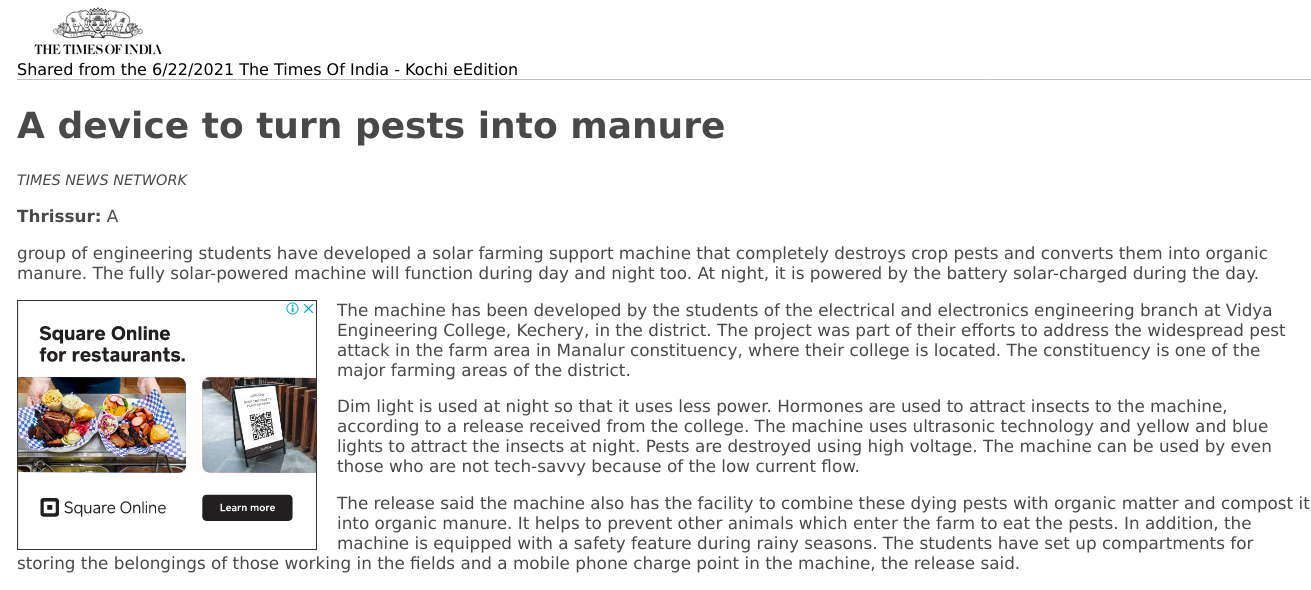 ---