Vidya student gets  the prestigious national Indira Gandhi Award for Best NSS Volunteer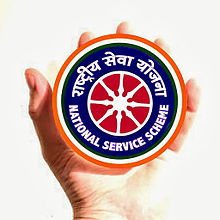 Nirmal Bino, Vidya's student of the B Tech ECE (2017-21) batch, has been selected for the prestigious national Indira Gandhi Award for Best NSS Volunteer. This was announced by the Ministry of Youth Affairs and Sports, Govt. of India on 17 September 2021. Nirmal Bino was selected for the award for the activities carried out by him and the NSS Unit during the academic year 2019-20.
This is the second time in a row, a student of Vidya has been receiving the Indira Gandhi Award for the Best NSS Volunteer. The earlier recipient of the award was Sreehari A M of B Tech (EEE) 2020 pass out batch for his activities in the year 2018-19.
Nirmal has also received the State Government's Best NSS Volunteer Award for excellence in the activities of the NSS Unit in Vidya in recent years. The NSS volunteer was selected for his outstanding work including work relating to GIS mapping, sanitation chains attached to railway stations in Thrissur district, rehabilitation of damaged equipment in hospitals, flood reconstruction work, housing for the homeless in Edappal, Malappuram and also performance at the National Integration Camp in Kerala.
The National Service Scheme Technical Cell Coordinator Ms S Ajitha, College Principal Dr C B Saji and NSS Program Officer Mr Anil Melepurath supported the Kerala NSS Technical Cell to achieve this feat for the second time in a row.
The Editorial Team of News & Events extends their hearty congratulations to Nirmal Bino and the mentors who supported him for this prestigious achievement.
---
News on the award in 2020
Vidya NSS volunteer conferred "National Level Best NSS Volunteer" award