An expression of philanthropy by MCA students
It is a great tradition of the MCA Dept started more than a decade ago and it is an activity executed exclusively the students with no involvement by the faculty members other than bringing to their attention this great tradition. The tradition referred to here is the organisation of an annual philanthropic activity by the final year students of the MCA Dept. The current final year students, students who are now studying in the fifth semester and who are going to complete the course in May 2022, when reminded of this tradition, enthusiastically supported the idea and organised a fund raising movement to support a charity work. They identified Pope Paul Mercy Home, Ashavanam, Peringandur, Athani, a charity home for mentally challenged persons, as the institution where they could bestow their benevolence. Due to Covid related protocols, only a few representative students along Mr Manesh D (AP, MCA Dept) could visit the institution  in person. The representatives handed over the fund of Rs.16500 they had raised and also a box of sweets for distributing among the inmates of the institution to Fr Johnson Anthikkaatt, the head of the institution. The representatives visited the institution on 11 November 2021.
About Pope Paul Mercy Home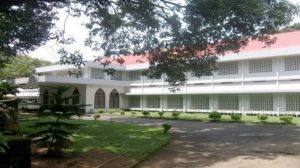 Pope Paul Mercy Home is both residential and a day care training centre for the persons with mentally challenged. Mentally Challenged students from all over is admitted without any discrimination of caste, creed or religion. State Government selected Pope Paul Mercy Home as the best institution for the handicapped in the state in 1993. It was a graceful occasion that our beloved Mother Teresa visited this institution in 1994 and blessed our activities and Prayed for the children. In the year 1996 Pope Paul Mercy Home was selected the best training centre for the handicapped in by the Ministry of Social Justice and Empowerment, New Delhi and awarded by Late Indian President Dr. Sankar Dayal Sharma. In the year 2001 also Pope Paul Mercy Home received the National Award from the Ministry of Women and Child Development, New Delhi for child welfare and awarded by Late Indian President Dr. K.R. Narayanan. Pope Paul Mercy Home celebrated its silver Jubilee in the valuable presence of His Excellency Kerala Governor Shri. Sukh Dev Sing Kang on 1st May 2001.
---
More images
---
Read report on the charity work by students of MCA 2021 pass out batch