Vidya's Annual Athletic Meet 2022 marked by students' enthusiastic participation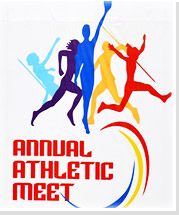 The 15th edition of the Annual Athletic Meet of Vidya was held on 6 – 7 May 2022. The meet targeted the wholesome development of the students both physically and intellectually by organizing the meet and participating in the events. The event was a great success in terms of participation and organization.
Inaugural Ceremony
The Inaugural function commenced with the "Hoisting of the College Flag" ceremony by Dr Saji C B, Principal in  the presence of invited guests, Head of Depts, members of faculty and staff, and students.  This was followed by the "March Past" of athletes which was followed the "Receipt of Salute" by the Principal. The guest of honour Mr Sinoj T S, Assistant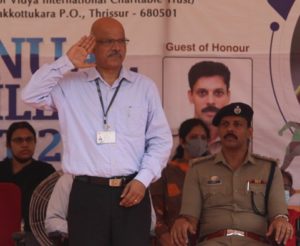 Commissioner of Police, Kunnamkulam delivered the inaugural address and declared the meet open. Sri P N Unnirajan, IPS Retd, Admisitrative Director, VICT presented a memento to chief guest as a token of appreciation. Ms Nisha Valsan Nair, President, PTA. felicitated the function. Guest of Honour handed over the torch to Mr Alwin C J, member KTU Football team, for the commencement of torch relay. He was followed by Roshan P S, Johan T Deepak, Febin K Babu, Joel Joy, Hrithik Sukumaran, Joel Joseph and Adarsh P S and finally handed over to Stella Paul,  KTU Athletic Gold Medalist for the ceremonial  lighting of  the "Annual Athletic Flame". Mr Jayakrishnan, General Captain, Student Senate, took the oath on behalf of all the athletes gathered. The ME Dept secured the best performance trophy for March Past.
Competitions
As many as nine individual events and two relay events were held in both men and women sections and a total 588 registrations were received.
Individual champions
Abin Babu and Stella Paul of EEE Dept  and Syama B of CE Dept were adjudged as Individual Champions by securing two individual gold medals each.
Team champions (Men)
| | | | |
| --- | --- | --- | --- |
| Sl. No |  Branch | Point | Position |
| 1 | EEE | 47 | FIRST |
| 2 | CE | 44 | SECOND |
| 3 | ME | 40 | THIRD |
| 4 | CSE | 14 | FOURTH |
| 5 | ECE | 4 | FIFTH |
Team champions (Women)
| | | | |
| --- | --- | --- | --- |
| Sl. No |  Branch | Point | Position |
| 1 | CE | 49 | FIRST |
| 2 | EEE | 27 | SECOND |
| 3 | ECE | 20 | THIRD |
| 4 | CSE | 17 | FOURTH |
| 5 | ME | 4 | FIFTH |
| 6 | PE | 3 | SIXTH |
| 7 | MCA | 2 | SEVENTH |
 Overall championship
| | | | |
| --- | --- | --- | --- |
| Sl. No |  Branch | Point | Position |
| 1 | CE | 93 | FIRST |
| 2 | EEE | 74 | SECOND |
| 3 | ME | 44 | THIRD |
| 4 | CSE | 31 | FOURTH |
| 5 | ECE | 24 | FIFTH |
---
Image gallery
---
In the media