"Youth should develop into rational human beings" – Shri M K Sanu advises Vidya's students
Sameeksha, the Trainers Club of Vidya, organized a session by Shri M K Sanu on 18 September 2018 at the College Auditorium. The session was conducted for PG students and third semester B Tech students of Civil Engineering and Computer Science Engineering Departments. The theme of the talk was "Sree Narayana Guru Sandeshangal".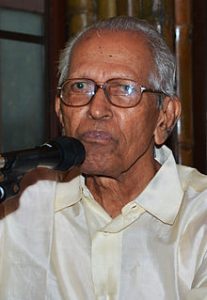 M. K. Sanu (born 27 October 1928) is a prominent Malayalam literary figure. He is a retired professor, critic, biographer, editor, translator, journalist, orator, social activist and humanist. He has authored over thirty-six books, translated four and edited ten. He is a permanent member of International body for Human rights. He is also the founding member of Mithram, School for Mentally Handicapped, in Mulanthuruthy village,Ernakulam District, Kerala. (Wikipedia)
The session started with a beautiful invocation of "Daivadashakam" by Ms Keerthana of Civil engineering Department. Dr Latha Raj, Director, Students Welfare and Social Projects, welcomed everyone to the session. The presidential address was delivered by the Principal Dr Saji C B. He remarked that more than the literary contributions of Shri M K Sanu what touched him the most was his contributions towards the care and betterment of mentally challenged children. In his special address, Executive Director Er G Mohanachandran remarked how important talks like this were to the current generation. He further added that such live talks were very rare these days unlike in olden times and that students of Vidya were really fortunate to get an opportunity to hear from such a noble personality.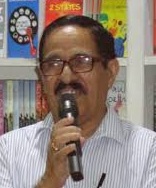 Dr P V Krishnan Nair, prominent literary figure and retired professor, introduced Shri M K Sanu to the audience. Dr P V Krishnan Nair remarked that words would not suffice to describe his very noble teacher. He briefed about the life of Shri M K Sanu and listed out some of his must read literary works.
After this was the session for which everyone was waiting. It was the session by Shri M K Sanu. He started by saying that he was addressing a group of very young persons who were much younger to him. The students are those who are only starting off their life and hence there is a need for them to understand and propagate human values among them. He said that though there were various classes of people, "man" as such belonged just one class which is "humanity". He remarked that these days machines were being used for everything but that should not make man mechanical. A person would be a good human only when he could recognize the feelings of his fellow beings. He added that the reason for suffering was that the strong and mighty people were always torturing the weak and this could only be reduced through scientific interventions and conscious efforts.
After the talk, Shri M K Sanu was draped the traditional "ponnada" by Executive Director Er G Mohanachandran. Principal Dr Saji C B handed over a memento as a token of love and gratitude. Dr P V Krishnan Nair was also honoured with a traditional "ponnada" by Vidya Trustee Shri Thilakan K K. Mr Murali, journalist of "Mathrubhumi", presented the memento to Dr P V Krishnan Nair.
Vote of thanks was delivered by Mr Hareesh K (AP, ME Dept aand Covener, Sameeksha). After the session, many students sought the blessings of the noble personality.