S3 B Tech (CSE) student participates in NASA's Space Apps Challenge
He did not win a prize! So what? Participation in NASA's Space Apps Challenge was itself an awesome experience for Subin Siby a student of the S3 B Tech (CSE) class.
Space Apps is an international hackathon that occurs over 48 hours in cities around the world. Coders, scientists, designers, storytellers, makers, builders, technologists, and everyone enthusiastic about curiosity come together to address challenges we face on Earth and in space! the vent is held at many locations across the world. Technopark in Thiruvananthapuram was also a venue for the Challenge. the event at Technopark was coordinated by Kerala Startup Mission along with Future Technologies Lab.  More details on the event can be obtained from the link: https://2018.spaceappschallenge.org/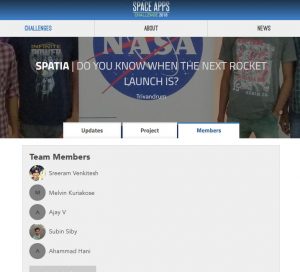 The 48 hour hackathon at Technopark started on 19 October and concluded on 21 October 2018. Students and professionals from different parts of India joined the hackathon. TCS employees also participated in the hackathon.
Subin went there alone and made a team of 5 with students from College of Engineering, Trivandrum, and MA College of Engineering, Kothamangalam. They picked the challenge "Do YOU Know When the Next Rocket Launch Is?". They called their project "Spatia". They made an Android app, and an open API Server for collecting information about all future rocket launches. The details of the project can be seen HERE.
There were three winning teams, two from CET and one a startup company. One of the winning project was a VR application where we can experience walking on the surface of the moon!