NSS volunteers visit SOS Children's Village at Mulayam
A team of 18 NSS volunteers of Vidya visited the SOS Children's Village at Mulayam in Thrissur District on 06 November 2018. The volunteers spent the day by setting up a vegetable garden and involving in other outdoor activities. The inmates interacted with the volunteers and  they shared  experiences of education and of NSS activities .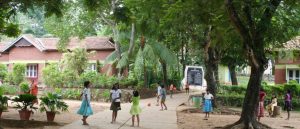 The SOS Children's Village in Thrissur started its activities in the year 1983. At present, there are over 140 children in 17 family homes, who are living under the care of 11 SOS Mothers, two SOS Aunts and six Mother Trainees. In addition, 95 youngsters are also staying in the Village.

The website of the Village can be accessed HERE.