Staff tour Mango Meadows!

It was a programme much anticipated by the faculty and staff of Vidya: a relaxed tour with colleagues and family to an unexplored picturesque location, organised by the Staff Club of Vidya. The tour took place on 8 December 2018 and the destination was Mango Medows located in Kaduthurithi in Kottayam District. So, what is so special about Mango Meadows? This is how the website describes it.
---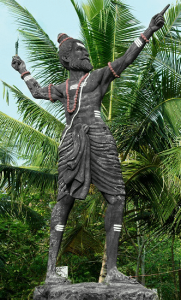 The tour started from College at 6.30 in the morning and reached the destination at 11.45 am. The participants were overjoyed by the greenery of the location and also enjoyed all the entertainments provided there. The statue of Parusurama is one of the best attraction of the place. All enjoyed cycling, fishing, boating and swimming. Shikara boat services were also available to view the complete beauty of the place. A variety of plants were planted there and each one of them carried a story behind. Eden thottam is another attraction. The participants returned from mango meadows at about 6 pm and reached the college at 10.45 pm.  Inside the bus, literally none sat in their seats and everybody but was dancing and enjoying the trip.