ECE Dept's ENERGIA 2K18 : Workshop for polytechnic college students
The ECE Dept of the College organized a two-day hands-on workshop christened "ENERGIA 2K18" during 7 – 8 December 2018 targeted at the final year students of polytechnic colleges in Kerala. The fully hands on workshop was intended to give an introduction and awareness about Texas Instruments (TI) based hardware and software tools through training on 'Embedded Systems Design using MSP430G2 Launchpad'.
The workshop was inaugurated by Prof Alex Shobana Rajkumar (Head, ECE, Govt. Polytechnic College, Kunnamkulam). Mr Ramesh C R (AP, ECE Dept) and Mr Rakesh V S (AP, ECE Dept) helped and guided the students in doing the embedded programming on Energia IDE and conducting the experiments on MSP430G2 Launchpad.
Release of Encircle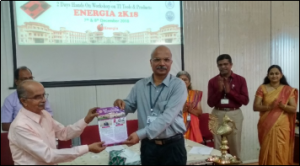 The Volume 5 of "Encircle", an annual newsletter being published by the ECE Dept, was also released during the inaugural function of the workshop. Er G Mohanachandran (Executive Director, VICT) released the news letter by handing over a copy to Dr Saji C B, Principal.