National Science Day celebrated as AION-2019 : Science Fest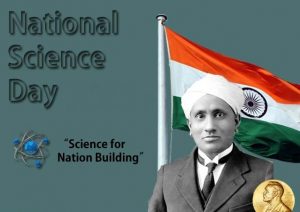 National Science Day (NSD) is celebrated in India on the 28th of February every year in order to commemorate the invention of the Raman Effect by the great physicist Shri Chandrasekhara Venkata Raman. The theme for the observance of National Science Day in 2019 was "Communicating Science for All".
The Departments of Applied Sciences and Humanities of Vidya celebrated the National Science Day (AION-2019: Science-Fest) on 22  February 2019. The celebration was sponsored by Kerala State Council for Science, Technology and Environment (KSCSTE).
Dr S Satheesh, Professor of Applied Sciences, welcomed the gathering. Dr Sudha Balagopalan, Dean – Academics, presided over the function. Dr Seema A (Scientist, C-MET, Thrissur), Chief Guest of the occasion, inaugurated the function. Dr Seema is winner of Nari Shakthi Puraskar-2019. She delivered an enlightening talk based on "Sensors – A Success Story from C-MET". Dr. Jiby Jose (Prof and Head, AS Dept) proposed the vote of thanks. Ms Sumitha P K (AS Dept) was the coordinator of AION 2019.
Competitions and prize winners
As part of the celebrations a few competitions –  elocution competition, paper presentation competition and project exhibition competition – were conducted for S2 B Tech students based on the theme of NSD – 2019.  The following are details of the prize winners of the various competitions.
Elocution

Paper Presentation

Project  Exhibition

First Prize

Anjana M Arun (

S2 CSE A)

Vignesh Sahajan and

Mukund Harikumar

(S2 ME B)


Gadha Suresh

(S2 CE A) and

Shanmugadas T M

(S2 ME B)

Second Prize

Alkesh Mohan V

 (S2 EEE A)

K.S.Subagha

Krishna Sasidharan 

(S2 CSE A)

Third Prize

Ifine Maria Abraham (S2 CSE A)
Alkesh MohanV (S2 EEE A)
---
Image gallery
---