MCA juniors bid farewell to seniors
The students of the S2 and S4 MCA batches of Vidya organised a solemn function in the afternoon of 27 April 2019 in the College Auditorium to bid farewell to the S6 MCA batch of students who would be leaving Vidya shortly after the completion of their studies in Vidya. This outgoing batch is unique in the sense that it is the first MCA batch in the College after the MCA programme of the College was affiliated to APJ Abdul Kalam Technological University; it is the first MCA batch under "KTU".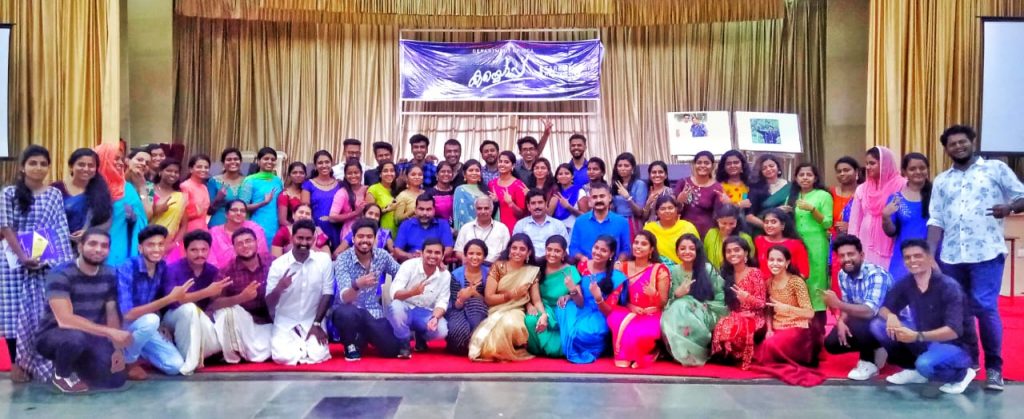 The juniors had arranged a sumptuous lunch in honour of the their seniors. The organisers had also invited the faculty and staff of the MCA Dept to participate in the lunch. The other activities in connection with the farewell programmes commenced at 1.30 pm immediately after the lunch.
After a brief welcome address by Anusree (S2 MCA) and presidential address by Dr V N Krishnachandran (Vice-Principal and Head of MCA Dept), Dr Saji C B, Principal, inaugurated the activities by lighting the traditional lamp. He also delivered the inaugural address. After his talk the Principal released the proceedings of the student seminars done as a part of the course work of the fifth semester, collected into a book with title "Vidya MCA Seminar proceedings 2019 (VMCADS 2019)". The Principal also handed over the prizes to the winners of the annual eSpiderZ competion being conducted by the Department. The juniors presented a a unique personal memento to each and every outgoing student. After a reminiscing speech by Jithkrishna (S6 MCA), the official part of the programme came to an end. This was followed by some cultural programmes like fun games, songs and a dance performance by Chandratheja, daughter of Ms Aparna S Balan (AP, MCA Dept).
---
Image gallery
---