CE Dept organises sixth edition of National Conference on REACT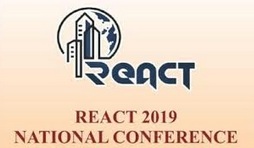 The sixth edition of the two-day National Conference on Recent Emerging Advances in Civil Engineering and Technology (REACT 2019), organised annually by the CE Dept of the College, was conducted this year during 6 – 7 May 2019.
The Conference was formally inaugurated by chief guest Dr C G Nandakumar (Professor (Retired), Dept. of Ship Technology, CUSAT) at 2  pm on 6 May 2019.  Dr Justine Jose C (Prof and Head, CE Dept) delivered the welcome address and Dr Saji C B, Principal, delivered the presidential address. Mrs Abhilasha P S, Associate Professor and REACT 2019 Convener, gave an overview of the Conference. The presence of Mr Sudhakaran Polassery, Chairman, VICT, during inaugural ceremony added a little more prestige to the occasion. The ceremony came to an end with a vote of thanks by Mrs Greeshma Shaji, Student Coordinator REACT 2019.
A total of 116 papers were presented in the Conference in concurrent sessions organised under different themes like structural engineering, geo-technical engineering, transportation engineering, environmental engineering, water resources engineering, building technology and construction management.
The valedictory function was held in the Seminar Hall of the CE Dept on 7 May 2019 at 4.00 pm. Dr Sudha Balagopalan, Dean-Academics,  presided over the function. Mr Suresh Lal, Finance Director, VICT, felicitated the function. Best paper awards were distributed during the session.

The conference was a platform for various budding engineers to explore various challenges in the field of Civil Engineering and to disseminate it to the society. A few selected papers will be published in the International Journal of Scientific & Engineering Research as special edition.