National recognition for ECE faculty member: Selected as Exemplary Mentor of Change 2018
Yet another feather in Vidya's cap!. This feather was due to a great national recognition to a faculty member of Vidya for his dedicated service outside the college, service in the form of mentoring children of selected schools to be visionaries and innovators.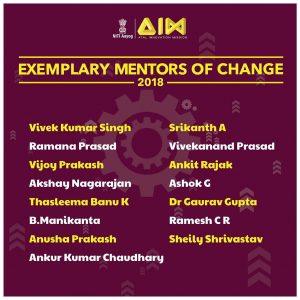 Mr Ramesh C R (AP, ECE Dept) has cornered a great recognition from Got of India. He has been nominated as an Exemplary Mentor of Change 2018 under the ATL Mentorship Program. He shares the honour with only thirteen others from all over India. The list was recently announced through their official Facebook accounts in advance to the Mentors Round Table 2019 scheduled to be held on 26 June 2019 at T-Hub Telugana.
Mr Ramesh is an alumnus of Vidya. He had his PG from NIT, Kozhikode,  with Gold Medal. He is also active in Department and institution promotion activities like, SAP, Robotic Centre, Skill Centre etc. He is a nephew of Er C K Jayarajan, an Author Trustee of VICT.
Dr Deepa Mohan (Asso Prof, CE Dept) is also a Mentor of Change under the ATL Mentorship Programme and she has done highly commendable work in
mentoring
the school children in the district.