Infosys conducts Faculty Development Program in Vidya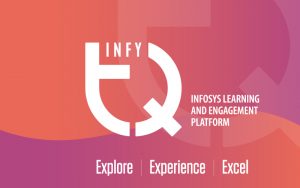 Infosys, the software giant that needs no introduction,, under their flagship Campus Connect program conducted a Faculty Development Program (FDP) on "InfyTQ" (Infosys Talent Quotient) based Foundation Program for faculty members in engineering colleges in Kerala and in the Mangalore region of Karnataka state. The Foundation Programme covers programming fundamentals, object-oriented concepts, data structures, and database management systems.
InfyTQ is the latest education enabler from Infosys which offers a host of online courses and is available both as a web application and as a mobile app. More details about the platform can be obtained from https://infytq.infosys.com.
The program began with a solemn inaugural function on 24 June 2019 presided by Dr Saji C B, Principal Dr Ramani Bai V (Prof and Head, CSE Dept) welcomed the august gathering. Er Mohanchandran G, Executive Director, VICT, delivered the keynote address highlighting the importance of these faculty development programs. Mr Hari S, Infosys, formally inaugurated the function which was followed by a WebEx delivered online by Mr Sundar K S, Associate VP, Infosys, Bangalore. Dr Sudha Balagopalan, Dean, felicitated the gathering and Mr Paul Chakola, Head of Training and Pplacement Dept, proposed the vote of thanks.
This six-day training program was attended by twenty-seven faculty members from thirteen engineering colleges from the Kerala and Mangalore region. Mr Hari S, Infosys, lead the training program and was assisted by Ms Safa H, from Infosys, Thiruvananthapuram Centre.
The following faculty of Vidya participated in the FDP and they may be contacted for further assistance and guidance relating to infyTQ:
Sivadasan E T (Asso Prof, CSE Dept)
Mahalakshmy A (AP, CSE Dept)
Remya P C (AP, CSE Dept)
Aswathy M R (AP, CSE Dept)
Dijesh P (Asso Prof, MCA Dept)
Sajay K R (Asso Prof, MCA Dept)
Siji K B (AP, MCA Dept)
---
News clippings