Vidya gets AICRA accreditation
Vidya has been accredited by All India Council for Robotics and Animation (AICRA) as an Accredited Training Partner (Accreditation No. is AA00164). Vidya is the first institute (academic or non-academic) in Kerala to get such an accreditation.
About AICRA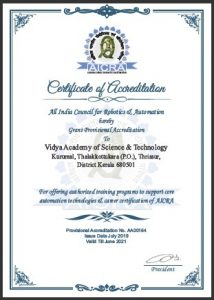 All India Council for Robotics and Automation (AICRA), a not-for-profit organization, is the apex body setting up standards in robotics and automation and education industry as well as helping over 35,00+ member organizations and professionals to solve difficult technical problems, while enhancing their leadership and personal career capabilities.
Established in 2014, AICRA's relentless pursuit has been to constantly support the rbotics and automation industry, providing support systems to institutions such as quality assurance, information systems and train-the-trainer (TTT) academies either directly or through partnerships. To strengthen supplementary skill development, AICRA focuses on fostering private sector led efforts that include both non-profit and for-profit initiatives with the goal of building models that are scalable. (Website of AICRA)