Talk on preparing for opportunities in Armed Forces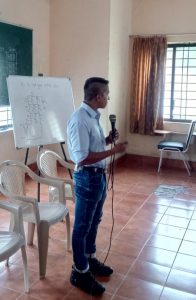 A talk on preparing for opportunities in the Armed Forces was held on 18 September 2019 at the EEE Seminar Hall between 11:00 am and 2:30 pm. The session was handled by Vidya's alumnus Lt. Abilash C Menon, Indian Army. He guided the students on how to prepare for various selection processes by the armed forces. A mock interview session was also held as part of this workshop for the current final year B Tech students.
To know more about Lt Abhilash C Menon, read the report titled "Vidya's alumnus joins Army as Lieutenant: Makes Vidya proud"  HERE.