Vidya's alumnus joins Army as Lieutenant: Makes Vidya proud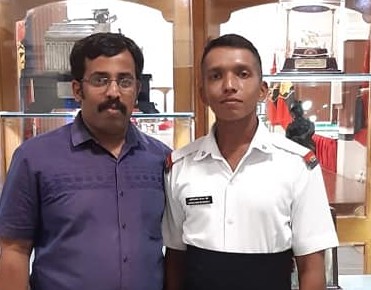 Mr Abhilash Menon C (an alumnus of Vidya of the B Tech (ME) 2012 – 16 batch), who was undergoing training at Officers Training Academy (OTA), Chennai  joined the Indian Army as commissioned officer with the rank  of Lieutenant after the passing out parade at OTA, Chennai, on 7 September 2019. Hon President of India was present at the function. The proud parents of Mr Abhilash Menon were present in OTA to witness the proceedings.
On a special invitation from Mr Abhilash Menon, Mr Arun K Lohithakshan (AP, ME Dept) also attended the passing out parade representing  Vidya.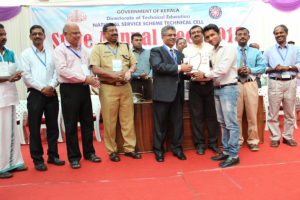 Mr Abhilash Menon was an outstanding student of Vidya. He was noted for his leadership capabilities, academic performance and involvement in other activities including arts (koodiyattam and drama). Throughout his student life he maintained excellent relations with all faculty members and classmates. Immediately before joining the OTA for undergoing training, he visited his alma mater seeking blessings of his teachers. He was also a recipient of  the "Best NSS Volunteer for the State Award" during the year 2014 – 15.