Vidya pays obeisance to its founder Executive Director
Vidya observed the ninth death anniversary of its founder Executive Director late Er K R Brahmadhathan on 17 September 2019 with a host of programmes.
Guests and speakers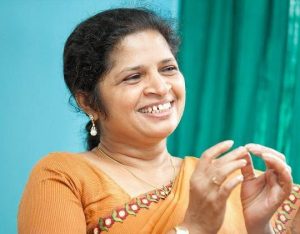 The Chief Guest of the function was Mrs Sheeba Ameer, founder and CEO of Solace. She gave an inspiring talk on "Social Responsibilities of Youngsters". Solace is a voluntary organization registered as a Trust under the Charitable Societies Act of Kerala. Their main aim is to care for children with long term illnesses and stand by their families, strengthening and comforting them, in the face of harsh realities. Solace ensures that the best medical treatment is made available, helping the families through the stress and strain of living with the illness, and provides financial support, including rent, cost of setting up a livelihood, education of siblings etc., and essentials, like food kits necessary for their survival.
The Guest of Honour was Prof C P Mathew, a close associate of late K R Brahmadathan and a veteran sportsperson. Prof Mathew, along with two other veteran sportspersons from Kerala, were invited by Prime Minister Narendra Modi for a breakfast meeting before the launch of Fit India movement at IGI Stadium in New Delhi. Mathew, 84, hails from Elthuruth in Thrissur was professor in botany and won gold medals in discus throw and 400 metres and won silver medals in 100m and 200m in international meets.
Felicitations
The programme was presided over by Er P K Asokan, Chief Patron, VICT. Mr K P R Vijayan, Author Trustee, Mr Thilakan K K, Trust Coordinator, Dr T K Vijayaraghavan, Former President of Cochin Devaswom Board,  Mr K V Abdu, President of KSEB Retired Engineers Association, Mr Suresh Lal, Finance and Administrative Director, Dr Saji C B, Principal, Dr Sudha Balagopalan, Dean Academics, and Dr N Ramachandran, Programme Convenor participated in the proceedings.
Yoga demonstration
The college yoga team led by Mr Sudeep Sudhevan (s5 B Tech CSE) conducted a yoga demonstration as part of the programmes.
---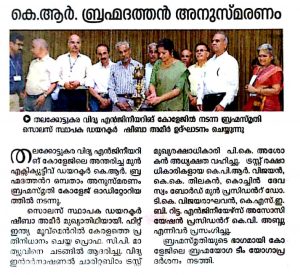 ---
Image gallery: Ms Shoba Sameer
Image gallery: Prof C P Mathew
Image gallery: Felicitations
Image gallery: Yoga demonstration
---
News report in CCTV and TCV channel
---