Vidya receives visitors from Govt VHSS, Thrissur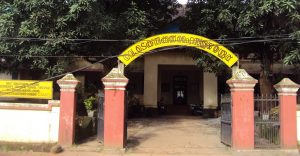 It  was a rare opportunity to the students, the teachers and the Principal of Govt. Vocational Higher Secondary School (Technical High School), Thrissur to get a first hand experience of the life and environment in the campus of an engineering college when Vidya welcomed them to its campus for a fruitful interaction with the faculty and staff of Vidya. It was visualised as  a training programme / field visit for the students and it was held based on a specific request from the Principal of the School and it happened on 18 December 2019.  As many as 51 students from Electronics and Automobile Technology sections, three teachers and the Principal  Ms Sharmila Jose were in Vidya's campus on that day.
The activities during the visit started with a simple inaugural session with Dr S Swapna Kumar (Prof and Head, ECE Dept) welcoming the guests and Dr Saji C B, Principal, addressing them. Dr Jiby Jose (Prof and Head, Applied Science Dept) introduced the resource persons.
Mr Krishna Prasad, Head of Vidya IT Centre, gave hands on training  in computer maintenance and networking for the students of the Electronics Technology section.  The students were also taken to the Server Room and the details of the working of the server were explained. The students of the Automobile section were given hands on  training in Bosch Lab by Mr Mithun P (AP, ME Dept).
---
Image gallery
---