Vidya NSS volunteers participate in "Climate Circle"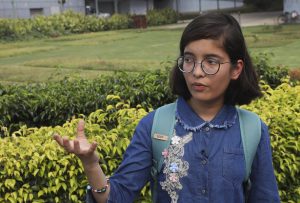 Thousands of students from schools and colleges in Thrissur district formed a "Climate Circle" around the Thekkinkadu Maidan on 1 January 2020, with a pledge to protect nature. Vidya's NSS volunteers actively participated in the initiative. The initiative was organised by the Students for Climate Resilience with the theme "Change the economy … not the climate" in association with SAPACC (South Asian People's Action on Climate Crisis). They formed the circle along the 3-km inner ring of Swaraj Round.
Climate activist Riddhima Pandey, a 12 year old girl from Haridwar who was among the 16 children along with Greta Thunberg, who filed a complaint at the UN Climate Action Summit against the apathy of governments towards tackling climate crisis have also attended the protest and addressed the gathering. An oath was also taken by the participants related to the climate change crisis.