College gets re-certified as ISO 9001:2015 Standards compliant
After a host of activities post the stringent and meticulous re-certification audit of the College conducted on 13 January 2020 by a team of auditors appointed by Bureau Veritas, the certifying agency Bureau Veritas (India) Pvt. Ltd (Certification Business) has finally issued the certificate stating that the Management System in the College is ISO-9001:2015 Standards compliant.
The Management Representative Team
| | | |
| --- | --- | --- |
| | | |
| Dr Mary P Verghese | Prof Anil Kumar K R | Ms Divya Unni |
The team comprising of Dr Mary P Verghese (Management Representative (MR) and Asso Prof, EEE Dept), Mr Anil Kumar K R (Assistant MR and Asso Prof, PE Dept) and Ms Divya Unni (Assistant MR and AP, ECE Dept)  deserves all praise for steering the College successfully through all the stages of the re-certification audit up to the final declaration of certification. The team got all support for the process from the management and also from the faculty and staff of the College.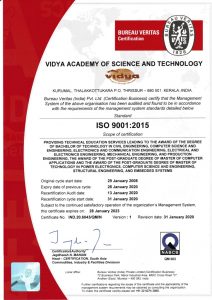 ---