Eleven students placed in Infosys via KTU initiated recruitment drive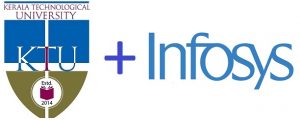 As many as eleven final year students of Vidya studying in various programmes have been offered placements in Infosys Ltd after a centralised recruitment drive conducted by Infosys jointly with APJ Abdul Kalam Technological University. The drive which was a novel initiative of the Univesity was open for participation for all students of the 2020 pass out batch B Tech / M. Tech / MCA programmes of all engineering colleges affiliated to the University.
Hearty congratulations to the placed students!
| | | |
| --- | --- | --- |
| Mariya Joy | MCA | MCA |
| Athulya Mary | B. Tech | CSE-A |
| Abishek K Jayadeep | B. Tech | CSE-A |
| Aparna V | B. Tech | CSE-A |
| Arjun CS | B. Tech | CSE-A |
| Aswathy Ajith | B. Tech | CSE-A |
| Athira S | B. Tech | CSE-A |
| Sruthi KS | B. Tech | CSE-B |
| Sreedev P Namboodiri | B. Tech | ECE-B |
| Sreelakshmy PS | M. Tech | ECE |
| Surya SB | B. Tech | ME |