Vidya's fencing girl honoured with Government job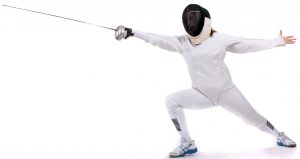 In recognition of her outstanding sports talent, Govt of Kerala has offered a Govt job to an outstanding sportswoman from Vidya. This honour was bestowed on Ms Merin K A, an alumna of the B Tech (EEE) 2012 – 16 batch of Vidya, who was the National Gold Medalist in Fencing in 2014 and was also a Calicut University player. She has been offered the position of a Lower Division Clerk in District Education Office, Thrissur under the scheme of appointment of outstanding sports persons under the Sports Quota.
Ms Merin was a member of the Kerala State Senior Team which secured Gold Medal in the Senior National Championship held at Jammu & Kashmir Dec 2013 and she was member of the Calicut University Fencing Team during the years 2013-14 and 2014-15.