eSpiderZ crawls out of Vidya and goes all over Kerala!
eSpiderZ
"eSpiderZ" is an annual website creation competition conducted by the MCA Dept of the College. The Dept has been organising this contest without break for the last TEN years. The contest is open to only the MCA students of VIdya. As a serious creative activity for the youngsters of Kerala during the COVID-19 induced lockdown, the Dept decided to open up the contest to a wider cross-section of students with attractive cash prizes, and participation and appreciation certificates.
A report on the contest conducted in 2020 is available HERE.
eSpiderZ-Kerala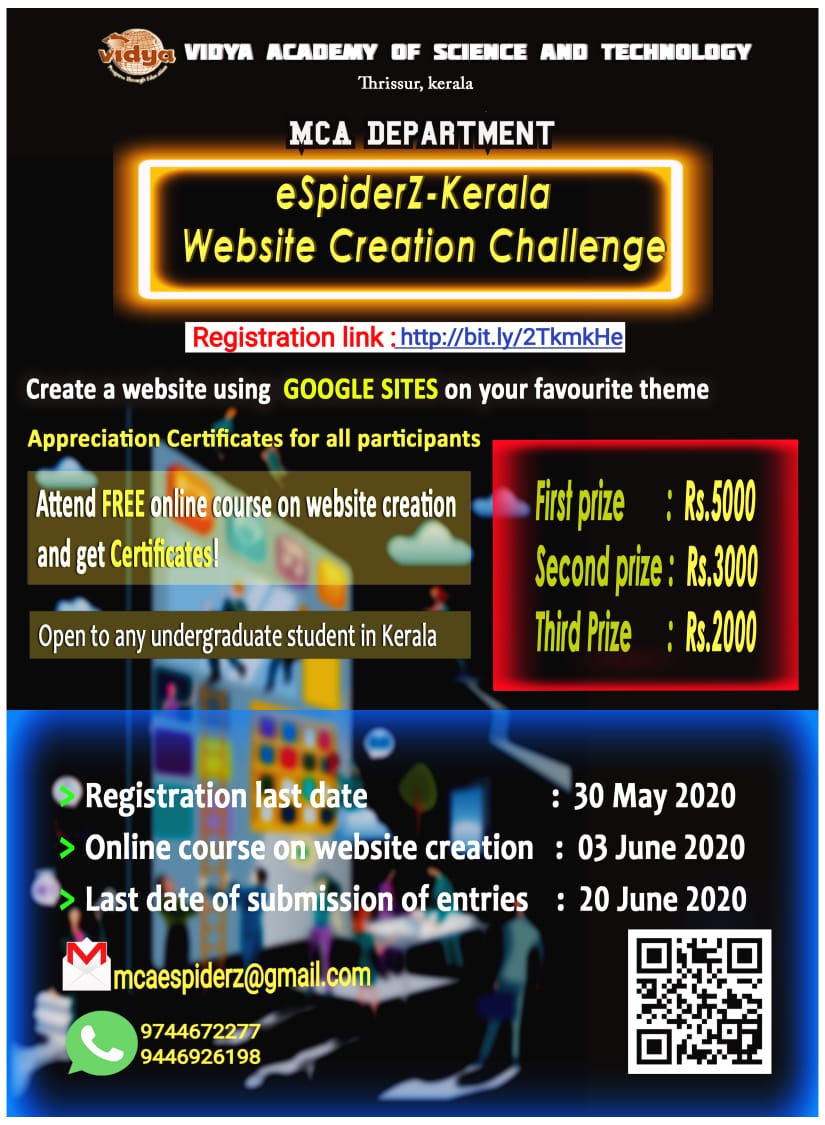 The Dept has rebranded the contest as "eSpiderZ-Kerala" and has opened it up to all undergraduate students studying in Kerala. The announcement regarding the all-Kerala contest was made on 20 May 2020 and as on date more than 150 students have registered for participation (the last date of registration is 30 May 2020). The organisers were happy to note that among the registrations there were students from Thiruvananthapuram and Kasaragod as well.
The contest and prizes
The contest is to create a website using Google Sites on any theme chosen by the participant. The Dept has announced cash prizes of Rs.5000 (First), Rs.3000 (Second) and Rs.2000 (Third). All registered participants who submit an entry will be awarded Appreciation Certificates.
The last date for submission of entries has been fixed as 20 June 2020.
Online course
To strengthen the skills in the development of websites, the dept has also announced an online course on website creation for all participants on 3 June 2020 using the Google Meet platform. Ms Siji K B (AP, MCA Dept) and Ms Salkala K S (AP, MCA Dept), the coordinators of eSpiderZ-Kerala contest, are busy planning for the online course. After much preparations, they conducted a rehearsal of the online course on 27 May 2020 with a few MCA students of Vidya as participants. They claim that the rehearsal has helped them in being more confident in using the Google Meet platform for such a novel venture.
Great expectations!
The organisers are hoping to receive some great websites as part of the competition.
---