ME students develop device to apply lime powder to rice fields
A team of S8 B Tech (ME) students developed a device to help farmers to uniformly apply lime powder to rice fields. The device can directly be coupled to a tractor and the power from the power take-off shaft of the tractor can be used to operate the device. Lime powder usually contains several limestone pieces and other contaminants which can be made into powder with the help of rotating blades in the machine. The same will be discharged with the help of centrifugal blower. No external power is used for the operation of the machine other than power from the tractor shaft.
The machine can mainly be used for uniformly distributing the lime powder into the land as per ph value. Ph value is the main criteria for the land to be acidic or alkaline. Discussions are going with Agriculture Technology Management Agency officials for further development of the device.
The team consisted of Edwin Joseph, Amal M S, Basil Mathew and Aksh M S. Mr Arun K L (AP, ME Dept) guided the project and Mr Jishnu M (AP, ME dept) served as the Co-Guide.
---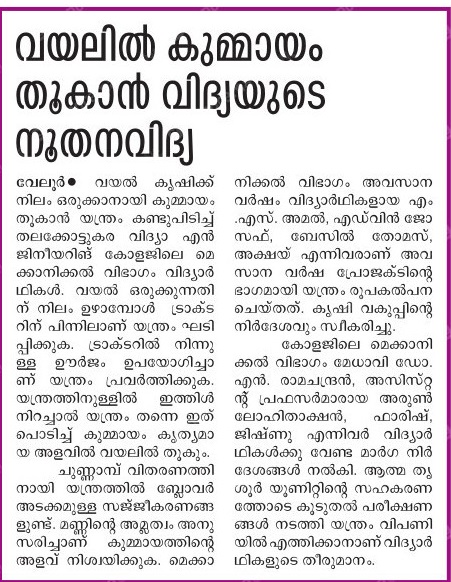 ---