Alamkode Leelakrishnan releases MCA students' Ormapusthakam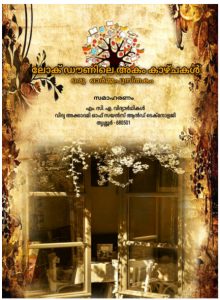 It was a prestigious and ambitious project of ViCA (MCA Dept Association): Compiling a book chronicling some of the memories, some of the activities, trivial and profound, that happened in the lives of all students of the MCA Dept during the current unprecedented COVID-19 induced lockdown. There was no model to refer to; there was no authority to seek advice from; the entire project had to be conceptualised, designed ab initio. And did a wonderful job. After much struggles, and happy moments contemplating about the beauty of the final product, a beautifully designed book was produced and it was appropriately titled "Lockdown kaalathte akam kaazhchakal: Oru ormapusthakam". The Association organised a mega event marking the formal release of the book on 12 August 2020. The book was formally released by the eminent poet and writer Alamkode Leelakrishnan. In his brief speech releasing the book, he profusely praised the MCA students of Vidya for bringing out such an interesting book.
After the formal release of the book, ViCA also held a few events as part of the valedictory programmes of the Association in the academic year 2019 – 20. There were several cultural programmes and the highlight of it was a live mimicry performance by Kalabhavan Ranjith, a professional mimicry artist.
---
List of videos
Talk by Alamkode Leelakrishnan releasing the Ormapusthakam
A video introduction to Kalabhavan Ranjith
Dance performances (three videos)
Alumni speak
ViCA memories
Performance by Kalabhavan Ranjith
---
Talk by Alamkode Leelakrishnan releasing the Ormapusthakam
---
A video introduction to Kalabhavan Ranjith
---
Dance performances
***
***
---
Alumni speak
---
ViCA memories
---
Performance by Kalabhavan Ranjith
---