Dr D Balakrishnan Commemorative lecture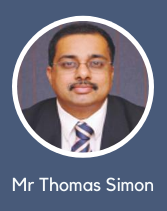 Dr D Balakrishnan commemorative lecture 2020 was held online in Google Meet on 16 August 2020 from 10.30 AM to 12.15 PM.  Mr Thomas Simon, former Vice President, and Global Head, Talent Management, TCS Ltd. was the guest speaker. The topic of the lecture was "The role of the individual as a catalyst for growth".
The program was presided over by the VICT Chairman,

 

Dr Santosh Prasannan, and was organized by the Department of Production Engineering.  Distinguished guests who spoke on the occasion include Dr C B Saji, Er P K Ashokan, Er G

Mohanachandran

, 

Mr Suresh Lal,

 Dr K B M Nambudiripad, Dr Sudha Balagopalan, Dr C E Krishnan, Dr V N Krishnachandran, Mr Paul Chakola and Mr K Dileep.  Eminent people from the governing body and executive committee of VICT and honorary advisors of VAST participated in the function. Nearly 200 participants from the trust, family members and friends of late Dr D Balakrishnan, staff and students of vidya witnessed the event and listened to the lecture.
---