EEE Dept organises alumni interaction with first year students
The EEE Dept organised an interactive session for the first year EEE students with the alumni of the Dept on 27 August 2020 via Google Meet. As may as five alumni working in different companies interacted with the students. They shared their cherished memories of the years they spent in the College and also their experiences in the current workplaces.
Mr Aravind T, Sub Engineer KSEB (2004-08), M. Ramdas M U, Assistant Manager, Raychem RPG Pvt Ltd (2009-13), Ms Leeba Benny, Technical Solutions Engineer, SAP (2011-15), Ms Risha P H, Business Development Associate, Byjus App (2013-17) and Mr Vivek Sha, Software Engineer, Robert Bosch Engineering and Business Solutions (R&D)(2014-18) were the alumni who interacted with the students. Ms Anooja V S (AP, EEE Dept) welcomed the gathering. On behalf of EEE Dept Mr Vishnu Rach K R, Group Tutor, 2020-24 B Tech EEE batch delivered vote of thanks.
Students interacted with the alumni and clarified their doubts about Electrical and Electronics Engineering. During the interactions, the alumni agreed to come to college and interact face to face with the students once the COVID – 19 pandemic was under control the society returned to normal activities without any fear of contracting the dreaded disease. Dr Mary P Varghese (HoD-in-charge, EEE Dept)  and members of the teaching and non-teaching staff of the EEE Dept were also present in the session. The Alumni and their beloved teachers shared their memories also.
---
The alumni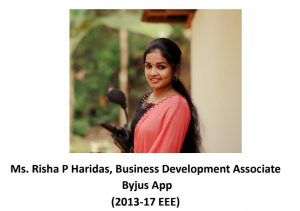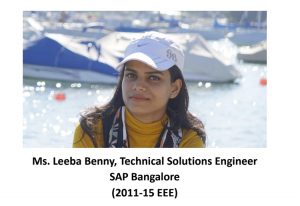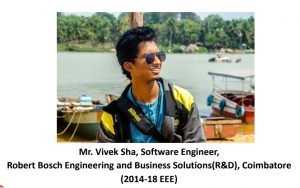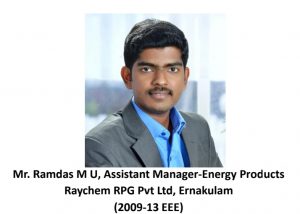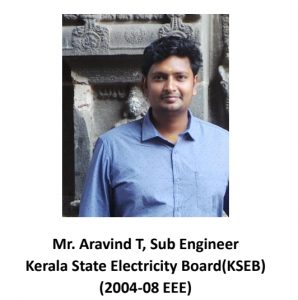 ---