EEE Dept conducts training on Power Quality with international experts
It was an international event in Vidya not quite noticed outside the confines of the EEE Dept of Vidya which organised the event. It was a 10-day training in Power Quality with resource persons from Germany, Finland and Canada, and also from Bengaluru for the benefit of the faculty and students of the Dept. Applaud the people who took the initiative to organise such a high quality, high profile training programme in Vidya!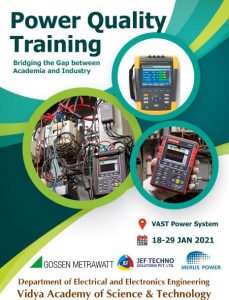 The EEE Dept, jointly with Vidya Talent Centre, organized a 10-day training program on "Power Quality: Measurements and Analysis" in association with a Bengaluru based company JEF Techno Solutions, a Germany based company Gossen Metrawatt Pvt. Ltd and a Finland based company Merus Power as part of the industry-institute interaction programme of the Dept. The programme was intended for the students, faculty and staff of the Dept.

The activities
The program commenced on 18 January 2021. The first two days were spent introducing the trainees to the measuring equipment called the PQ Analyzer. These sessions were handled by experts from JEF Techno Solutions – Er Jomon Chacko, Mr Anand and Mr Vibin. The trainees were taken to the different locations in and around the campus and were trained to take the required measurements from the electrical supply system and later on these data were downloaded and kept for the future reference.
The formal inauguration of the program was held online on 19 January 2021, which was attended by renowned personalities from the associated companies, senior professors from the college and representatives of management.
From 20 January 2021 to 22 January 2021, online sessions were given to the trainees on various topics, including the importance of grounding, the effects of lightning, remote lab practice, evolution of power quality problems etc. These sessions were handled by experts joining from various parts of the world, namely Er Michael Schulze from Gossen Metrowatt Pvt. Ltd, Er Anil Kumar P, Er. Varadarajan and Er Ronak Desai from JEF Techno Solutions, Bengaluru and Er Pedro Estoban from Merus Power, Finland.
From 25 January 2021 to 29 January 2021, students were assigned mini projects, which they completed and submitted reports on the final day.
The valedictory function
A valedictory function was held on 29 January 2021 to acknowledge the efforts of the trainers and trainees. The trainers from the industries, officials of VICT, professors from various Depts and Dr Nitin Padmanaban, Post Dotoral Fellow, University of Waterloo, Canada  and an Alumnus of Vidya and evaluator of student daily reports, attended the function, which was presided over by Dr. Saji C B, Principal. Mr Vishnu Rach K R (AP, EEE Dept) was the coordinator of the whole programme. Dr Sudha Balagopalan, Dean Academics, acted as the mentor for the training program.
---
Image gallery
---