Vidya's alumni in UAE donate oxygen cylinders to hospitals in Kerala
It is indeed very satisfying to report that most of Vidya students leave Vidya after really imbibing the spirit and the ideals of the founders of Vidya. This ideal is based on a thought process which recognises the need for extending help to those who live in less fortunate circumstances; it is based on true charity. This is evidenced by the continuing charitable activities of the alumni of the first MCA batch (2006 – 09) of Vidya who calls themselves the First Masters of Vidya and also of several other alumni groups of Vidya.
Vidyaites UAE rises to the occasion
Recently, a fellowship of Vidya's alumni  based in UAE and calling themselves Vidyaites UAE decided to provide some help to Kerala Govt in its fight against the raging Covid pandemic. As part of the project, it has been decided to donate six large oxygen cylinders (40 liters) to Kerala. Already, two large cylinders were purchased through the corporate social responsibility (CSR) fund of Safegear, a company owned by the alumni, and handed over to Care for Kerala officials. The plan was to send these to Kerala Medical Service Corporation through Norkaroots and they would be delivered to the most needy hospitals in Kerala.
Er Yunus attended the handing over ceremony representing Vidyaites UAE.
Care for Kerala
The "Care for Kerala" is an initiative under the banner of Norka Roots launched after an appeal from Kerala's Chief Minister Pinarayi Vijayan to non-resident Keralites from across the world to assist the state in its fight against Covid-19.
Thanks from Vidyaites UAE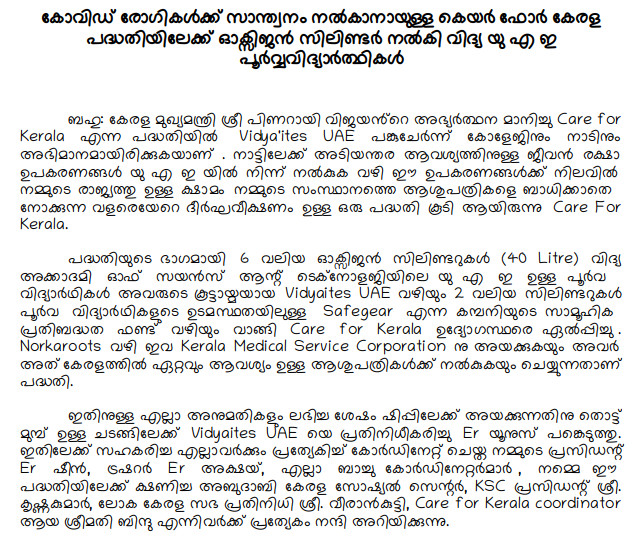 ---
---