11th Dr D Balakrishnan Commemorative Lecture
The 11th Dr D Balakrishnan Commemorative Lecture was conducted online on 16 August 2021 at 11.00 am in honour of Dr D Balakrishnan, founder Academic Director and former honorary Advisor of the institution. The program was hosted on the Zoom platform and live streamed in FaceBook as well.
Dr Mohanan Kunnummal, Honourable Vice-Chancellor, Kerala University of Health Sciences (KUHS) and Dr K P P Pillai, Former Executive Secretary, Indian Society for Technical Education (ISTE), were the honored guests.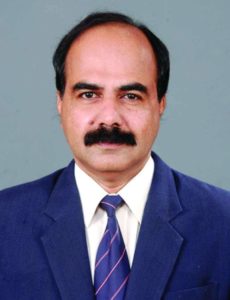 Dr Mohanan Kunnummal is a renowned expert in radio diagnosis. He was recently elected as the President of Association of Indian Health Science Universities, the first Keralite to occupy this prestigious chair. He did his MBBS and MD in Radio Diagnosis from Govt. Medical College, Trivandrum. He has more than two and half decades of teaching experience in various medical colleges, including Govt. Medical Colleges and MES Medical College, Perunthalmanna. He was also the Principal of Govt. Medical Colleges at Thrissur & Manjeri.

Dr K.P.P. Pillai, Former Executive Secretary of the Indian Society for Technical Education (ISTE), took his B Sc (Engg) and M Sc (Engg) from University of Kerala and Ph D from IIT, Kharagpur. He is the recipient of The Prince Avittom Thirunal Gold Medal of the University as the first rank holder. He started his career as a Junior Engineer at KSEB and later took up his passionate profession as a teacher at College of Engineering, Trivandrum (CET). He joined CET as a lecturer in the Electrical Engineering Department, and became the Principal of CET, in the year 1991. He has also served as the Principal of Govt. Engineering College, Kannur.
The programme
The function started at 11 AM with a prayer. Dr. C B Saji, Principal, delivered the welcome address. A video about the compiled memories of Dr. D. Balakrishnan was displayed. Mr Manoj Kumar K B ,Vice Chairman, VICT, gave the presidential address. Dr Ramani Bai V, Professor and Head of CSE Dept introduced the  guest of honor Dr K P P Pillai which was followed by the Reminiscence Address by Dr K P P Pillai. Dr V N Krishnachandran Vice Principal, introduced the chief guest Dr Mohanan Kunnummal. The Commemorative Lecture was delivered by Dr Mohanan Kunnummal on the topic 'The world of Medical Imaging-Synergy of Technology and Medicine'. In his talk, he explained the working of X-ray machines and displayed different types of X-ray images. He also talked about the principles of mammography and different applications of USG with the help of images. He also explained the principles of angiogram and CT.
Er P K Asokan Chief Patron, VICT, Er G Mohanachandran, Honorary Advisor and Non-Executive Director, VICT,   Mr. Suresh Lal, Executive Director, VICT and Dr Sudha Balagopalan, Dean- Academics, paid tributes to Dr D Balakrishnan. Ms Mahalakshmy A (AP, CSE Dept, Coordinator of the event) delivered the vote of thanks. The talk was attended by as many as 585 first year and second year B Tech students and more than 100 staff members of Vidya and guests. Certificates were issued under the banners of ISTE and IE to the attended students. Programme came to end by 1:15pm.
---
Screenshots
Video record of the programme
---