Releasing Ceremony of College Magazine 'PARINATI'
To provide a space to all students and staff members of Vidya and to express their multiple voices talented from dynamic and varied learning communities, VidhVangmay, the College Magazine Committee for the year 2021 – 22  presented a meaningful publication titled 'PARINATI'. This magazine was the result of the combined efforts of dedicated hardworking Students, enlightened Management, PTA, Principal and Members of Staff .
The magazine "Parinati" was released by Dr Saji C B (Principal) on 23 December 2022. The Principal handed over the first copy to the Student Editor Athul KA (S7, EEE Dept). The Editorial Board members were also presented with certificates.
VidhVangmay 2022 Editorial Team
The Editorial Board members (Suryajith Sudheeran (S4, CSE Dept), Aiswarya Sankar (S7, CE Dept), Nithin MS (S7, ME Dept), Rohini Vijayakumar V (S7, ECE Dept), Brindha Shaju (S7, EEE Dept), Aswin M W (S7, EEE Dept)), under the leadership of the Student Editor Athul KA (S7,  EEE Dept) , contributed exemplary well to bring out this magazine as a compendium of wit and wisdom.
The magazine has become a reality due to the tireless efforts of   the staff members, Dr. Sudha Balagopalan (Chief Editor and Dean – Academics), Mr Kiran Babu (Asst Prof, CE Dept) and Ms. Surabhi M S (Asst Librarian) with the ardent support of  students with a special mention, Akshay V S (S7,  EEE Dept), Aravind K (S7, EEE Dept), and Arunkrishna E S (S7, EEE Dept). Suryajith Sudheeran (S4, CSE Dept) created  the cover design of magazine that makes inspiring and incredibly impressed to all the readers.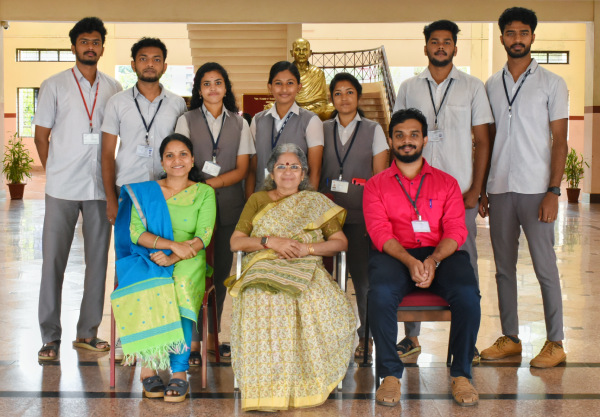 The students from D'Medley (Music Club of Vidya) and D'Addiction (Dance Club of Vidya) showcased their talents with the mind-blowing performances where all the attendees enjoyed the pure bliss moments and both the mesmerizing performances  served as  a visual treat to the spectators.
The Editorial Team of News & Events joins the entire Vidya family in extending hearty appreciations  to all the students and staff members for their selfless effort who made this remarkable work possible and worthy of its name !!!
Link to PDF version of Parinati Vidya Magazine