Harvesting, Punarjjani, Vichinthya, traffic rules, . . . : Vidya's NSS volunteers are busy as always
The NSS volunteers of the College were busy last week, as always, organising a host of activities like helping the college staff and faculty in organising Vichinthya, carrying out work related to Punarjjani Project, creating better awareness about traffic rules among the general public, etc.  Read all the stories with a lot of pictures!
It is harvesting time again in Vidya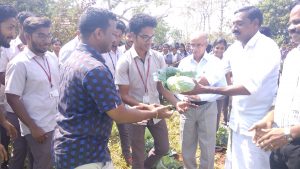 The vegetables grown by the NSS volunteers of the College were harvested in a celebratory atmosphere on 30.01.2018.  The first vegetable was harvested symbolically Mr T M Abdul Rasheed (Vice-President, Velur Grama Panchayath) and handed over to Vidya's NSS agricultural team. The program was attended by Er G Mohanachandran (Executive Director, VICT), Mr Manoj (Velur Agricultural Officer) and Mr Anil M (NSS Programme Officer).
Punarjjani  activities at Medical College, Thrissur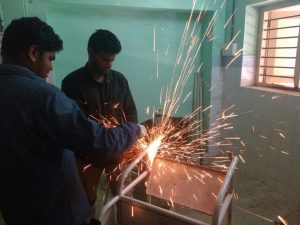 The NSS units of of the College organised a few activities under the Punarjjani Project  at the Oncology Department of Government Medical College, Thrissur, on 25.02.2018 and 11.03.2018. Dr. Shehena (Superintendent, Oncology Department)  along with other staff members of the Department helped the volunteers in implementing the programme. About 45 NSS volunteers, under the guidance of Mr. Arun P R (Associate Programme Officer), cleaned, repaired and painted damaged wheel chairs, medicine trolleys,  stretcher trolleys, oxygen stands and other hospital equipment.
Images of activities on 25.02.2018
Images of activities on 11.03.2018
Cleaning premises of the location of the Home for Homeless Project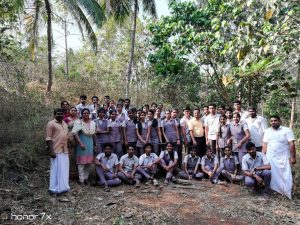 The NSS volunteers of the College helped to clean the road leading to a plot of land in Mullurkara Grama Panchayath earmarked for constructing a home under the NSS project titled "Home for Homeless". The volunteers also cleaned the plot. The road and the plot of land had been completely covered with wild bush plants. As many as 41 volunteers along with Mr. Anil M (Programme Officer) carried out the work on 08.02.2018 at . Panchayath officials supervised the work done by volunteers.
Traffic rules awareness programmes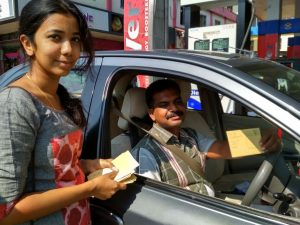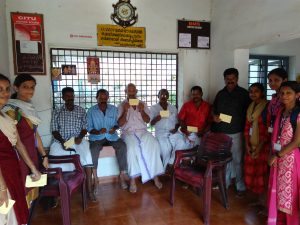 Realizing the importance of adherence to traffic rules in improving road safety, the NSS units of the College carried out two programmes to create better awareness about traffic rules among the general public. As part of the programme, on 03.03.2018, around 12 NSS volunteers distributed picture post-cards containing information about traffic rules and road safety rules to people in the areas of Triprayar, Valapad , Thalikulam, Anthikad and Nattika. A similar programme was held at Sakthan Bus Stand, Thrissur, on 11.03.2018 also.
NSS volunteers help organise VICHINTYA 2K18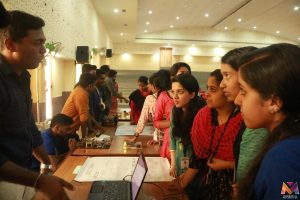 The NSS Volunteers of the College volunteered for VICHINTYA 2K18, a one day Project Expo and Paper Presentation Competition for students of Polytechnic Colleges in Kerala held at the College on 10.03.2018. Around 300 NSS volunteers attended the programme.